Breese-Wilde Monoplane
"Pabco Pacific Flyer"
by Burl Burlingame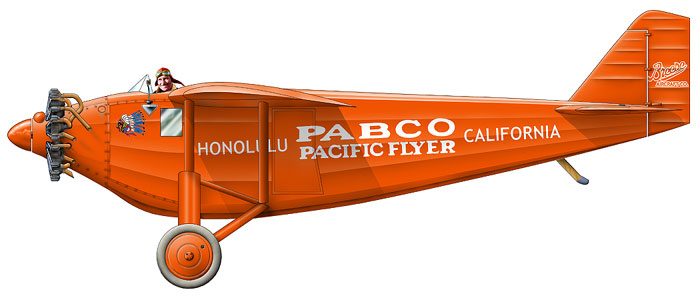 Breese-Wilde Monoplane
"Pabco Pacific Flyer"
Here's the other Breese-Wilde Monoplane entered in the Dole Derby of 1927. As before, If any 1920s buffs out there have any suggestions or corrections, please email me at bburlingame@starbulletin.com

The PABCO PACIFIC FLYER was flown by Maj. Livingston Irving, and it began to veer heavily upon takeoff from Oakland, and Irving cut power and coasted to a stop. He had the plane towed back to the starting line and attempted another takeoff, but the overloaded aircraft ran out of lift and flopped back down on the runway, groundlooping itself to destruction. Irving was unhurt.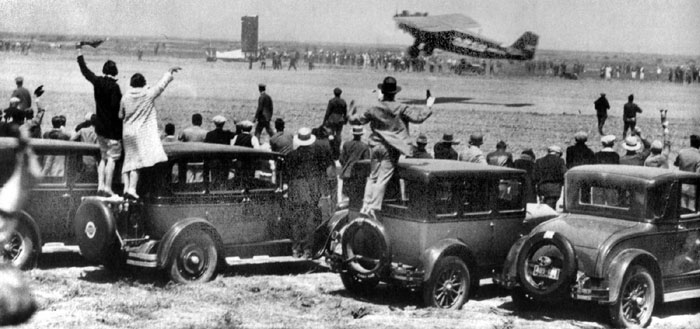 Although Irving's Breese-Wilde photographs very dark, it is described in all reports as a "brilliant orange." Note the Lafayette Escadrille insignia on the nose, a memento of Irving's service in the Great War.
The PABCO PACIFIC FLYER was eventually rebuilt and renamed RED WING, and Irving flew it commercially for three years. During World War II, Irving was recalled to active service as a colonel, and died in 1983.

---
Images and Text Copyright © 2004 by Burl Burlingame
Page Created 12 January, 2004
Last Updated 25 March, 2004
Back to HyperScale Main Page