Grumman F6F-3 Hellcat
by Stu Hurley

The inspiration for this subject was a very nice print of a painting by Nicholas Trudgeon, called 'Scramble for the Marianas' which I acquired a couple of years ago. It features Hellcat Bu. No. 66016, piloted by Alex Vraciu, taking off from the deck of USS. Lexington on June 14 1944 on the way to the Marianas 'Turkey shoot'. The print is signed by Vraciu.
Having his autograph, I wanted to build one of his aircraft. I had decals for 40467 of VF-6, but this sheet lacked the tiny bureau numbers. So, rather than do the famous Hellcat '19' I decided to build the aircraft depicted in my painting, 66016 '32' of VF-16.

I had plans to open up the cowlings and gun covers. I only ever do one side as, in my opinion opening up everything often destroys the lines of the aircraft (that's my excuse). The Aires detail sets were used for this model , and I found them to fit quite well .
Other details were scratchbuilt using fine wire and strip.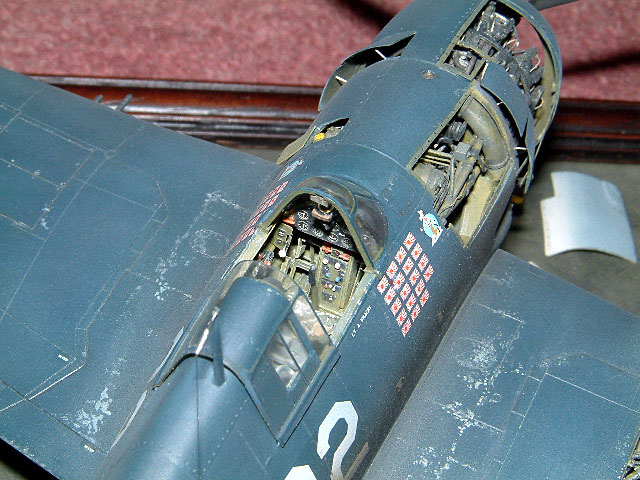 My references show the Hellcat internals and cockpit forward of the seat bulkhead were painted in chromate green, not the 'yellow' colour but a darker shade. The seat was painted interior green. I always enjoy building cockpits, and the Aries set builds up to give a superb replica of the Hellcats' busy 'office'. Seat harnesses were made up from lead foil and etched buckles. To give more life to the model, the control surfaces were cut out and displaced slightly. I carried out some work on the canopy track area as this is moulded to take the canopy in the closed position, and the track fairings below the windscreen were also incorrect. A Squadron canopy replaced the kit item, as the opening section was too thick to slide back over the aircrafts' spine.

The gun bay on the Hellcat was fitted with a tubular brace diagonally across the opening, which could be swung upward to access the guns. Mine was depicted with the diagonal brace in the closed position and the covers open flat, as they could be used as service platforms. The bay was again detailed with wire and strip. This aircraft carried a bomb rack under the starboard wing root so this was scratchbuilt and fitted accordingly. Antenna was from fishing line.

Colours used were Humbrol and Testors, all post-shaded, with paint chipping using a silver pencil. Decals were from Aeromaster.
Click the thumbnails below to view larger images:
---
Model, Images and Text Copyright © 2003 by Stu Hurley
Page Created 10 July, 2003
Last Updated 25 March, 2004
Back to HyperScale Main Page