Hypothetical
Blue Angels F-8 Crusader
by Ron Cline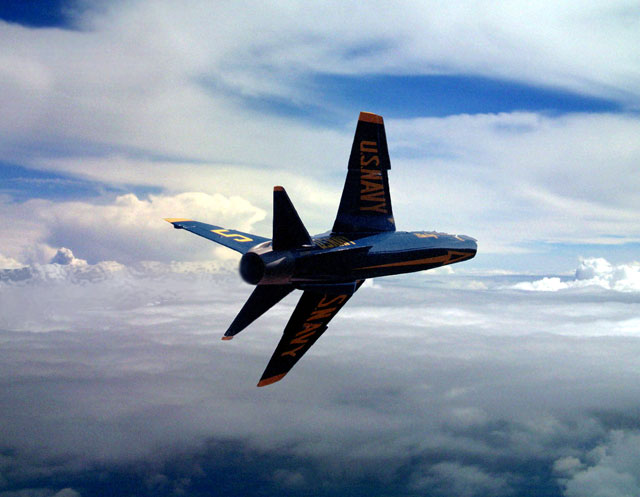 Vought F-8E Crusader
This is my hypothetical take on a Blue Angels F-8 Crusader.
It is actually not too far from reality, as the Blue's did consider the F-8 as a replacement for the F-11F Tiger before going with the F-4 Phantom II. The F-8 wasn't chosen due to none being available (all were committed to use in Vietnam), and the fact that it was already out of production. But I think you'll agree that the F-8 would have been a great aircraft for them to use.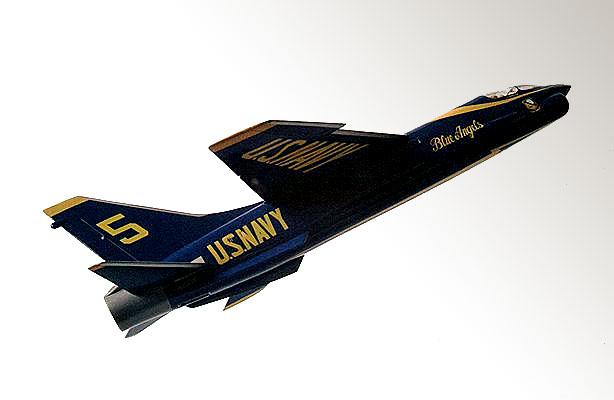 I used the old Monogram 1/48 F-8E kit. I thought that this would be a quick, slam-dunk build since I was going to build it in flight and I wouldn't have to mess with the cockpit or landing gear. WRONG! It took a HUGE amount of filling and sanding (my least favorite part of modeling!) to get it somewhat smooth, the toughest part being the gear doors.
The only cockpit modification was using a spare MB Mk5 ejection seat to replace the incorrect kit seat; and I deflected the ailerons and stabilators to go with the display angle of the finished kit.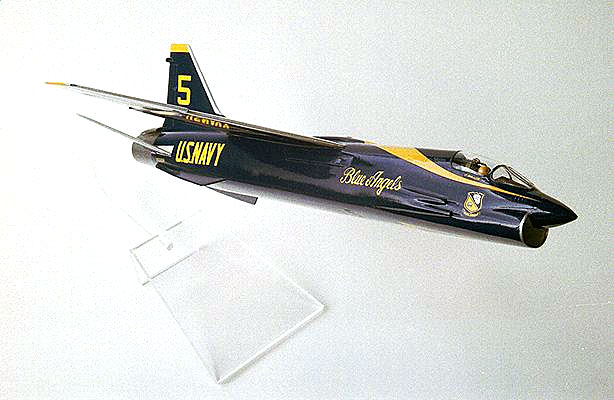 The decals are from Yellowhammer models. They're meant for the F-4 Phantom, but they fit the F-8 almost as if they were meant for it.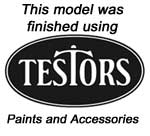 The overall blue color was mixed according to the 'formula' in the Yellowhammer directions, with the yellow on the tips of all the flying surfaces and the 'swoosh' around the canopy being in Model Master RAF Trainer Yellow.

---
Images, Text and Model Copyright 2003 by Ron Cline
Page Created 24 June, 2003
Last Updated 25 March, 2004
Back to HyperScale Main Page