Focke-Wulf Fw 190A-5
by Erik Whipple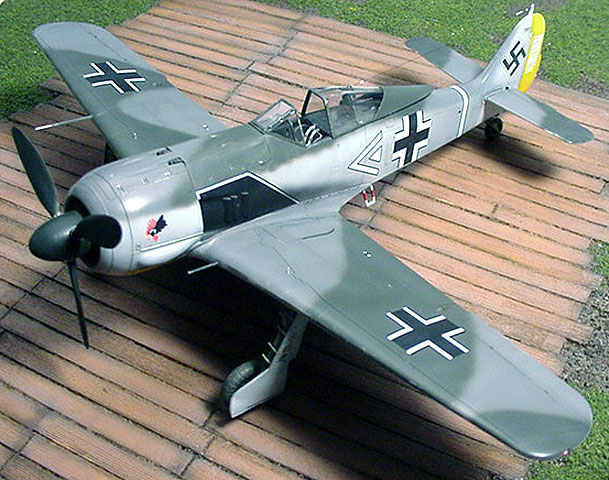 Focke-Wulf Fw 190A-5
DML 1/48th Focke Wulf Fw190A-5
Kommandeur, III/JG-2
Beaumont-Le-Roger, Spring 1943
Maj. Egon Mayer
102 Victories, KIA 02MAR44

One feature of III/JG-2 aircraft that I marvel at is the consistent adherance to marking protocols through most of the war. The markings on this machine are virtually identical to planes ranging from the Bf109F and earlier Wurgers flown by both Hans 'Assi Hahn and his successor, Egon Mayer. A photo in Osprey's book on JG-2 demonstrates that at some point this aircraft was fitted with high altitude gear including the bulbous intakes on either side of the lower cowl. Checking other references it appears to have been a field modification, so I decided to model mine with the standard cowl. With the help of JG-2 stalwarts Rudi Pflanz and Erich Leie, Maj. Mayer pioneered the head-on attack for use against four engine bombers. He was credited with 102 victories, but lost his life on March 2, 1944 while engaged in combat with P-47 Thunderbolts.

I used this kit as an opportunity to try the replacement cowl from Cutting Edge and was rather pleased with the result. Landing gear position indicators are .009 steel guitar string. Decals are from Aeromaster. Photos of this and other III/JG-2 Fw190's from the period indicate that the fuselage mottlling applied was quite subdued, appearing to be just a faint misting of RLM75 Grauviolet.