MiG-15
by Chaz Nims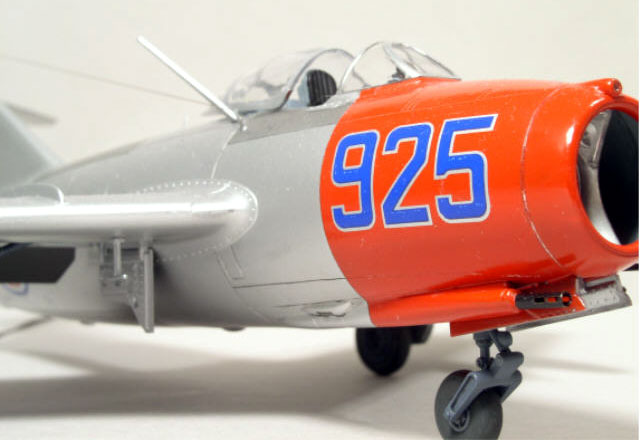 MG-15


Tamiya's 1/48 scale MiG-15 Clear Edition is available online from Squadron.com
This is the Tamiya 1/48 Mig 15. I had planned to use the old True Details resin cockpit interior, but when I took a close look at it, the details just did not seem of high enough quality to make it worthwhile. I still planned to use the ejection seat, but due to the way it was attached to the pouring stub, it disintegrated when I tried to prepare it for use. I did add a few P/E details from Eduard, including a nice perforated gun barrel for the 37 mm nose cannon. I also replaced the pitot tube with brass and stainless tubing. The decals are from Aeromaster, but to tell the truth, I have forgotten the nationality of the markings they represent. Russian, I think, but they may be North Korean. Someone out there knows, I am sure.

The kit includes a well detailed engine and can be modeled with the rear half removed to display the engine. I wanted to show the plane in normal configuration, though, so I omitted the engine. Surface detail is fantastic; fit is good, although there were some problem areas for me.

The metal finish is SNJ without the powder polishing. Red areas are plain old Testors gloss red from the small bottle. I used an acrylic wash in the panel lines. Darker metal areas are Testors Metalizer.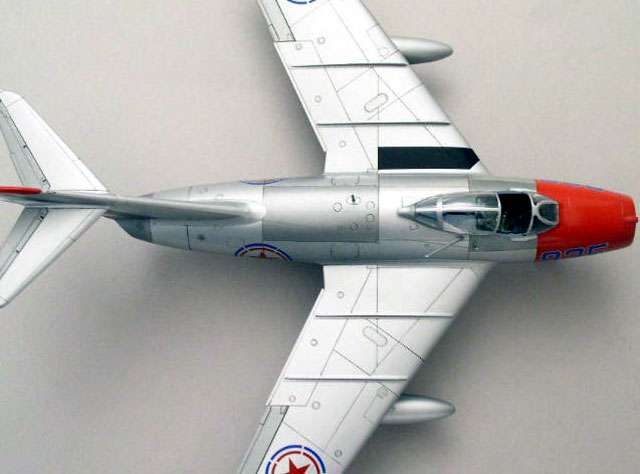 This is my first attempt at photographing a model. I decided to attempt it last Christmas and bought myself a digital camera. The camera is an Olympus C-4000. For those contemplating taking this plunge, plan to spend a good couple of weeks on the internet reading up on various cameras as well as how to use them to take close-ups sufficient to do justice to your modeling creations. You'll probably still end up posting some questions to forums like this one for advice.

The photos were taken at a relatively low resolution, around 1100x700 as I recall. I did this to help keep the file size down. I later learned that this was not necessary as you need to resize the pictures anyway with a photo editor and this will reduce your file size and scale the picture to a pixel width suitable for computer screen viewing, 640 pixels wide for Hyperscale.

The pictures were taken indoors with no flash and PLENTY of light. F stop was manually set to 4.5. Macro (close-up) mode was used.

This model sits next to a completed Hasegawa F-86F. It's surprising how small this plane was compared to the F-86.

Click on the thumbnails to enlarge.
Use your browser's "Back" arrow key to return to this page:
---
Model, Text and Images Copyright © 2003 by Chaz Nims
Page Created 27 February, 2003
Last Updated 25 March, 2004
Back to HyperScale Main Page