USS Nashville PG-7
by Warren Kirbo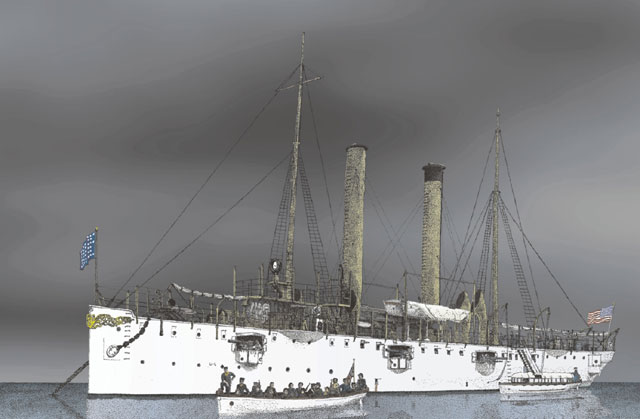 USS Nashville PG-7
Authorized by Congress, 3 March,1893, built at Newport News S.B.&D.D. Co., Commissioned 19 August 1897. Ship's compliment: 11 officers. 165 enlisted men.
The year marks the 100th Anniversary of Panamanian Independence, thanks to the Gunboat USS Nashville.
The Patrol Gunboat, U.S.S. NASHVILLE is credited with firing the first American shot of the Spanish-American war on 22 April, 1898, the day Congress ratified the formal declaration. NASHVILLE's shot across the bow of a Spanish merchant steamer became the first round fired in retaliation for the sinking of the U.S.S. MAINE in Havana Harbor in February of that year.
In July NASHVILLE joined with the U.S.S. MARBLEHEAD in a raid to cut a cable in the Cuban city of Cienfuegos that resulted in a score of the NASHVILLE's crew being honored with the Congressional Medal of Honor.
Five years later, on 3 November, 1903, NASHVILLE was off the coast of what is now Panama with orders to support rebels who were about to secede from the Republic of Colombia. A landing party from NASHVILLE secured a railroad bridge to deny reinforcement of the Colon detachment while NASHVILLE anchored in Colon's harbor to keep the garrison there in its barracks. A few days later a treaty was signed with representatives of the new government of Panama for the construction of the Panama Canal.
The U.S.S. NASHVILLE was decommissioned in 1909, but was reactivated when the war-clouds brewing in Europe put strains on American relations with Mexico. NASHVILLE served until the end of World War One, and was finally decommissioned in 1919, and sold in 1921, to the Richmond (VA.) Lumber Company where she was used as a cedar barge. She was scrapped in 1957.
Available as a print from Warren Kirbo

---
Images Copyright © 2003 by Warren Kirbo
Page Created 24 September, 2003
Last Updated 25 March, 2004
Back to HyperScale Main Page