Starfighter F. Mk.1
Hypothetical History in Profile
by Jennings Heilig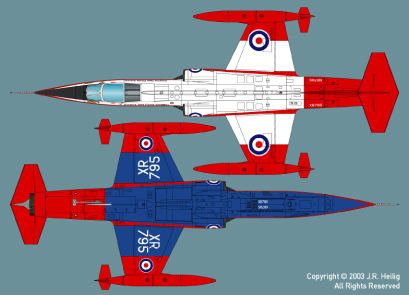 Starfighter F.Mk.1 XR795
Empire Test Pilots School
RAF Boscombe Down
1985


HyperScale is proudly supported by Squadron.com

Jenning Heilig proposes an alternate history which see the Starfighter in RAF service:
The tragic loss of the first three prototypes of the English Electric Lightning during 1958 led to long delays in the introduction of the type into RAF service. The aerodynamic and engine problems which had caused the problems persisted, with several more fatal crashes during the Lightning's squadron service trials. This situation forced the cancellation of the Lightning, and all production was stopped while the search for an adequate replacement started in earnest.

The field of potential candidates was quickly narrowed, and after trials of a borrowed USAF F-104C in 1960, the RAF settled on the new NATO standard fighter, the Lockheed F-104G. The RAF surmised correctly that there would be wisdom in adopting the same interceptor as the rest of NATO, and an order was placed with Lockheed for 25 F-104Gs and five TF-104Gs. In addition, a license was obtained for further production in Britain, with British Aerospace eventually delivering a total of 254 Starfighter F.Mk.1s and 55 of the two-seat T.Mk.3s. A single Lockheed-built example was modified into the Rolls-Royce Spey powered F.Mk.2, but after extensive modifications to the airframe and a disasterous test program, the project was shelved ("The less said about it, the better," according to one RAF official).



First deliveries were made to No. 92 Squadron at RAF Binbrook during autumn of 1962. The first British-built example left the Woodford line in mid-1963, allowing other squadrons to follow No. 92's lead. By 1967 eleven RAF interceptor squadrons were equipped with the Starfighter, including both home based units and those assigned to RAF Germany. By the time of its retirement from frontline service in 1984, the Starfighter had seen service with 17 fighter squadrons and other units of the RAF.

In 1985 only four Starfighters remained in service with the RAF. These consisted of two F.Mk.1s (XR795 and XR802) and two T.Mk.3s (XP292 and XP330) employed by the Empire Test Pilots School at Boscombe Down. The single seater illustrated had the honour of being the only RAF Starfighter to score a kill, having claimed an Argentine Mirage whilst operating from RAF Stanley in late 1982. These last Starfighters were decorated in the splendid MoD (Procurement Executive) 'raspberry ripple' colours.
The were finally withdrawn from use in late 1988, and like many other RAF Starfighters, passed on to the Turkish Air Force where they remain in service today.

---
Text and Images Copyright © 2003 by Jennings Heilig
Page Created 12 October, 2003
Last Updated 25 March, 2004
Back to HyperScale Main Page