Metal Models' 54mm Woman of the 1st Empire in a Ball Gown
is available online from Squadron.com
This 54mm Metal Modeles metal figure of a Woman of the 1st Empire in a Ball Gown (#0082) is well cast - you have to carefully look for the mold seams. Once found, a couple of passes with a sanding stick are all thats needed to remove them.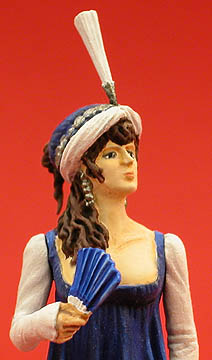 The kit includes a tile floor baste, a complete body, two arms, a plume, and knot of hair for the back of her head. Everything fit together well and with little or no filler.

I painted the figure using Andrea Acrylics. The gown was painted white (tinted with blue-gray) to represent linen. Pure white was used for the highlights. The bodice was painted blue with gunmetal and silver trim. These colors were also used on the turban, plume, and fan. The blue bodice and turban were overcoated with Humbrol Satin-Cote to impart a slight sheen to the fabric.

This is my first female figure (I usually paint medieval or Napoleonic soldiers); I found Andrea's Painting Girls in Miniature to be very useful - along with some experimentation. I have no idea what cosmetics were used in the Napoleonic era, so I left her face largely untouched. I concentrated on applying smooth, pale skin tones, lip color, and some eyeliner to her eyes to make them larger.

The base was painted cream and pink to represent marble tile, then given a coat of Satin-Cote.